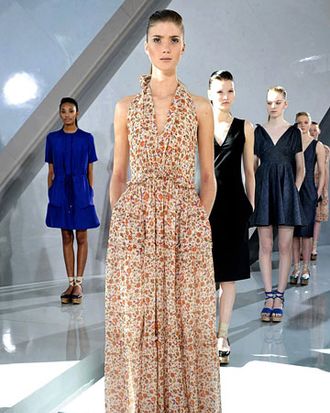 A look from Derek Lam for eBay.
Photo: Imaxtree/Imaxtree
Derek Lam's diffusion line for eBay has been a convenient way for the designer to reel in potential clientele for a forthcoming lower-priced line under his own label, it turns out. The sixteen-piece Derek Lam for eBay collection was shown last month during New York Fashion Week and has now been narrowed down to five dresses based on votes from eBay customers. The slick part? Part of the voting process asked eBay users to give their e-mail addresses so that they could be notified when the dresses go on sale, and Lam might have designs on using the same e-mail list to reach out to potential customers when launching his own diffusion line in a few months.