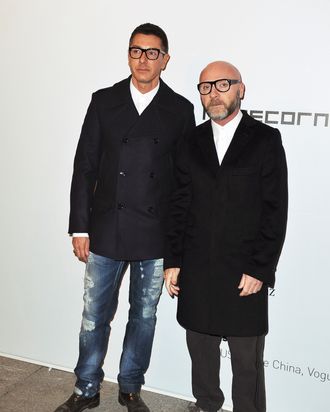 Photo: Jacopo Raule/2011 Jacopo Raule
Have you done your taxes yet? Or do you, like many people (and um, us), jumble all that "Important: Tax Documents Enclosed" mail into a dusty pile until you get tired of your dad bugging you about it? Or, better yet, do you just decide to recycle that mail as cocktail coasters and then toss it gleefully in the trash, since the IRS must have much more important things to do than chase after your piddling salary?
Well, if you fall into the latter camp, you are in very fashionable company, save one detail: Domenico Dolce and Stefano Gabbana's salaries are not quite so piddling, and they have been under investigation since 2008 for tax fraud (this is Italy, after all; these things take awhile) and were indicted in November for failing to pay taxes on more than $1 billion in income. It appears now that they may stand trial for criminal charges.
Dolce and Gabbana May Face a Criminal Trial for Tax Evasion [NYT]