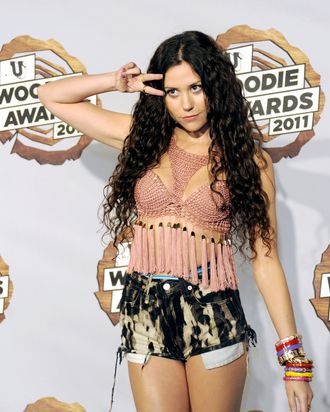 Photo: Tim Mosenfelder/2011 Tim Mosenfelder
British singer Eliza Doolittle (don't worry, that's just her stage name) attended the mtvU Woodie Awards at the Austin Music Hall as part of the South by Southwest festival yesterday making every effort to stand out. She wore a puce knitted bustier with long tassels attached, bleached and distressed dark denim hot pants, and a bunch of multicolored chunky bracelets. We can't see her shoes, but that's probably for the best.
When did a Ke$ha-hobo hybrid become the go-to style for emerging musicians? Does this outfit have any redeeming qualities?