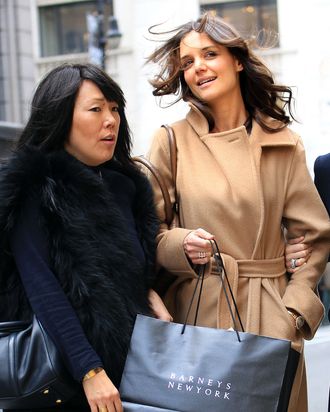 Yang and Holmes out in New York today.
Photo: Jackson Lee / Splash News/? www.splashnews.com
Katie Holmes and her stylist Jeanne Yang sat in the private penthouse on the seventh floor of Barneys on Madison Avenue this morning to talk to reporters about their fall 2011 Holmes & Yang collection, on display one floor below. Earlier, they were photographed carrying the line in garment bags into the building, where Katie would change into wide-leg cream-colored Holmes & Yang pants and a simple short-sleeved black T-shirt, also from the line.
Now in their second season at Barneys, the duo said that conversations about starting a clothing line began when they realized they each sewed as a hobby. "It's so rare, unfortunately, that I actually know people who are into crafting and doing stuff like that," Yang says. Holmes says she sews "aprons for the girls, pillows, tablecloths, baby clothes, Barbie clothes." Yang interjects, "Oh, stuffed animal clothes … And then it came down to, why don't we make some stuff for us?"
"A human store!" says Katie. "Sometimes when life gets really busy you don't want to have to think about what it is you're going to wear and you just want to have certain pieces that you know you can just depend on — what are those pieces? — and so that was kind of our challenge." Yang adds, "Both of us are working moms, so we're pretty busy, and, having a line, being moms and then having our careers is quite a lot."
Holmes and Yang have been touring the country, visiting cities like L.A. and Dallas to do trunk shows and meet their customers. The label is still pretty small, and neither Holmes nor Yang could give specifics about a five- or ten-year expansion plan. Nor could they definitively answer if Holmes would ever lend her celebrity image to a Holmes & Yang ad — much like she's doing this season for Ann Taylor."You want to maintain your mystery," she tells us — but it's not like she had to.