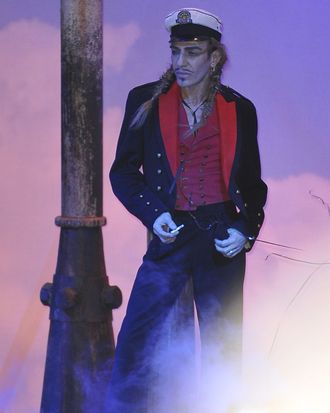 With the fall 2011 show season over, we can all focus on gossiping about John Galliano and Christophe Decarnin and all those other rumors about designers like Hannah MacGibbon losing their jobs. No fashion to distract us! We kid — the fashion shows are wonderful, but this season — with Galliano getting fired from Christian Dior and Balmain's Decarnin recovering from a mental breakdown — they have been beside the point. Without the shows the industry has some time to reflect on what we can learn about Galliano's drunken tirades, Decarnin's situation, and even last year's suicide of Alexander McQueen, whose body was found to contain a cocktail of drugs heavy on cocaine.
Saks is thinking ahead. The store's president and chief merchandising officer Ronald Frasch spoke to the Times:

Mr. Frasch said that Saks executives had met this week to encourage a discussion with employees about managing the stresses they face. "We have to be observant and quickly intervene if we see behavior that isn't normal," he said.
After Paris Fashion Week, Designers Look Ahead [NYT]
Worries Grow Industry Breeds Substance Abuse [WWD]