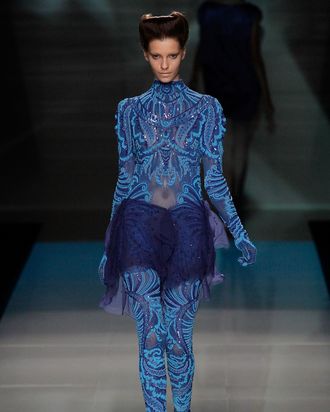 A design by Somarta from Japan Fashion Week in October.
Photo: Matt Jelonek/Getty Images/2010 Matt Jelonek
Prior to organizers officially canceling Japan Fashion Week, which was scheduled for next week, many labels had canceled or indefinitely postponed their shows. With the devastating tsunami having hit just four days ago, the news is expected.
Retail and beauty companies' stocks are tanking with the market, which was down 10.6 percent yesterday. Uniqlo owner Fast Retailing's stock dipped 17.5 percent, and Shiseido was down 9.18 percent.
Retail business has been crippled, also as expected. With rolling blackouts implemented in Tokyo to deal with the power shortage, many retailers are closing early and dimming lights, while some are telling employees to stay home due to the disruption of public transit. And of course fewer people are out shopping.