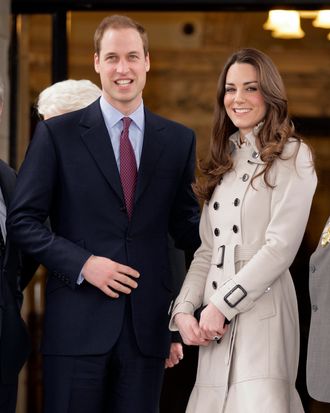 Photo: Indigo/2011 Indigo
In just about a month and some days, Kate Middleton will become a princess. But she doesn't want to go into the big wedding acting like one — that would just be tacky. So rather than arrive in a carriage like previous royals, she's keeping it simple and down-to-earth and arriving in a Rolls Royce. W reports on her arrival plans:

Kate is to travel by car to Westminster Abbey, accompanied by her father, who presumably will be wearing a morning coat, with tie. (For the few parental words delivered outside his Bucklebury home after the November engagement announcement, Mr. Middleton eschewed a tie.) Most recent brides—including both Diana Spencer and Sarah Ferguson—traveled by carriage­, but Kate's choice is in keeping with the couple's wish to downplay the fairy-tale aspect of their wedding. At any rate, a Rolls-Royce from the Royal Mews—the Windsors' garage and stable—will ensure that she arrives without feeling sick due to the rocking of the carriage.