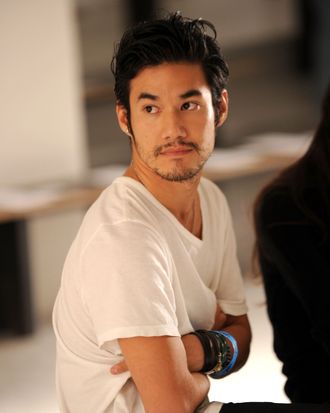 Photo: Bryan Bedder/2010 Getty Images
As Katie Holmes exited Barneys on Madison Avenue yesterday afternoon, young designer Joseph Altuzarra walked in, ready to do some early sales of his fall 2011 collection at his trunk show. The fall 2011 grunge- and thirties-inspired show, complete with fur-lined parkas and fur-accented glitter shoes, was fantastically received in New York. "There's a moment right after the show, right after it ends, where you're just like, 'Wow, that was intense. And it lasted seven minutes,'" he told us mere hours before he was nominated a second year in a row for a CFDA award. We also talked about where he finds inspiration on the streets of New York; if he believes the market for parkas costing upwards of $7,000 is still kicking; and the John Galliano scandal.
So: fur parkas! They were a big hit on the runway.
The collection really started with the idea, ultimately, of wearability. I was drawing this during a really cold winter, this past one, in New York. It was brutal, it was awful.
Do you get seasonal depression in the winter?
Not really. I get sick after my show, but especially now when we're doing pre-collection and starting that before the show even happens, there's kind of a locomotive that keeps you going and you don't really have time to get depressed.
Designer profile: Altuzarra
Also, see a slideshow of Altzarra's fall 2011 collection.