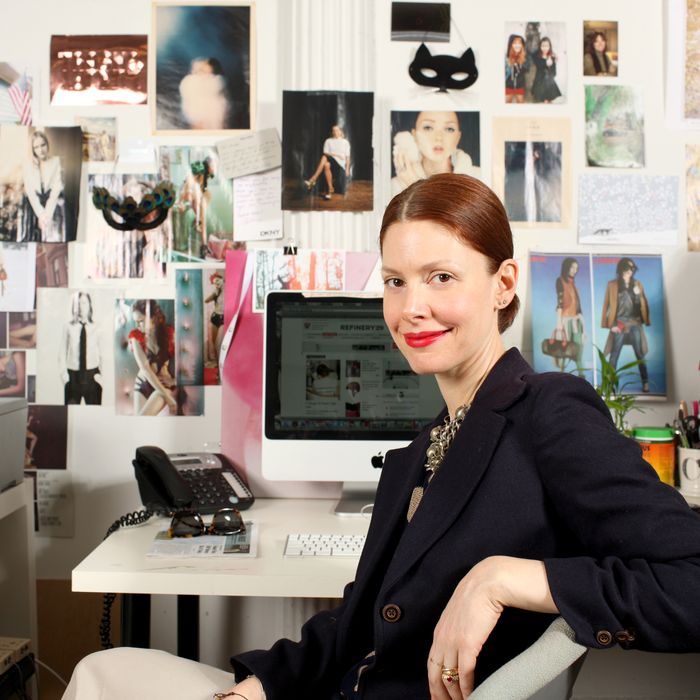 Barberich at the Refinery 29 office.
Refinery 29 editor-in-chief Christene Barberich is the anti-label snob, enforcing an offbeat high-low aesthetic on her site and in her closet. "Though it's predominately a fashion and shopping site, we infiltrate so many other parts of our readers' lives beyond just clothes," she says. "Fashion influences how you decorate your home, how you travel, and how you spend time with friends." She kicked off her career as the style editor at Gourmet for four years, segueing from the entertaining and interior design realms into fashion. She jumped to CITY magazine next, then became deputy editor at The Daily, New York Fashion Week's publication. After a decade working in print, she turned to the web in 2005, founding Refinery 29 with three others. The site has grown substantially over the past year, expanding from just six full-time employees to 26.
Though Barberich has built an impressive career — from writing for the Times to consulting for brands like YSL and Prada — she remains resolutely hands-on at Refinery. "I'm doing everything from styling readers for photographs at a shopping event to driving the car in our Fashion Cab video series," she laughs. "No job is too large or too small." We talked to the multitasking editor about her favorite vintage haunts, the allure of the perfect blazer, and her strict take on closet clutter.
What's one thing you never leave the house without?
I almost always wear Karen Walker sunglasses, a little bit oversized, and my engagement ring: a Cartier Trinity band that I've always loved. It's very seventies and super-simple.