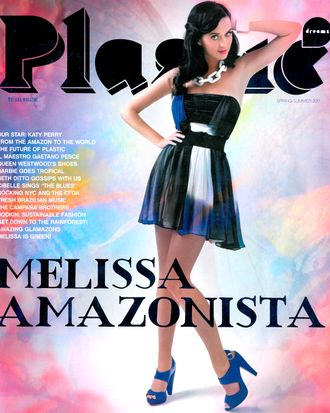 For those of you who don't yet have your subscription to Plastic Dreams set up, don't worry — we're here for you.
The magazine is published by Melissa, the Brazilian footwear brand best known for its chic jelly shoes that has collaborated with Vivienne Westwood, Jean Paul Gaultier, and architect Zaha Hadid, among others. Pieces from all these collections feature heavily in the magazine alongside items from the brand's main line.
This fourth issue is Plastic Dreams' global debut (issues one through three ran only in Brazil) and features a Katy Perry cover, interview (you see, she's a really big fan), and editorial — in which nothing shoots out of her boobs, thereby keeping the focus on, well, the shoes, but also the other bright colors, fun tie-dyed backgrounds, and fantastical shrubbery in the magazine. Take a tour of Katy Perry's spread and the other editorials in the slideshow.