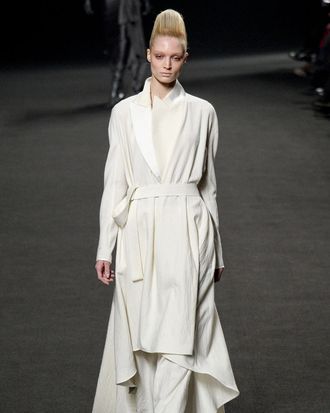 Haider Ackermann, fall 2011.
Photo: Imaxtree/Imaxtree
As it goes with the seasons, some Fashion Weeks are good, some are bad, and some are just strange for designers (well, they're all strange, but strange in a personal way). John Galliano: bad Fashion Week! Christophe Decarnin: strange Fashion Week! And Haider Ackermann?

"It was a very bizarre fashion week, but a very good one for us," said Katou Brandsma, who represents Ackermann. "Everyone was congratulating us. We had buyers from shops, like Barneys in New York, we've been waiting for 10 years to turn up to our shows. Our designs stood out because everyone else - apart from McQueen - was so boring."
Oh? We enjoyed the seven-pound faux leather jacket at Balenciaga. And all the slashed and slitted stuff. It was also pretty great for Ackermann to be tossed into the pool of names that are front-runners to replace Galliano at Christian Dior or another LVMH label should one of the designers already in the stable get promoted and leave a vacancy.

John Galliano scandal puts spark back into Paris fashion week [Guardian UK]