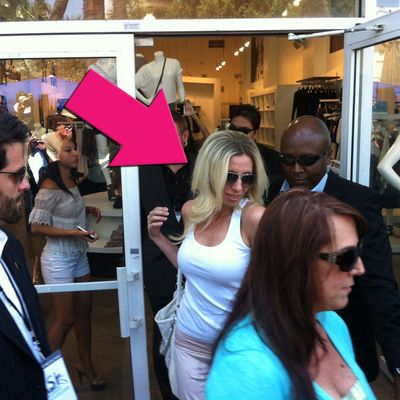 A woman identified as Lady Gaga in an e-mail from Guess, Inc.'s public-relations team was photographed at the Lincoln Road Guess store in Miami. The woman, whose dark roots showed through her dyed blonde hair, displayed a considerable lack of crazy makeup, metal chastity belts, sharp metal panties, chain harnesses, pointy facial prosthetics, and other things that make sane people go WTF EYE ROLL. It remains unclear if this alleged Lady Gaga went out looking like a normal American girl in an attempt to disguise herself and throw off her mobs of rabid fans, who, Guess says, were kept under control by five security guards while the store was shut down so that this normal-looking "Lady Gaga" could shop. It also remains unclear if her display of normality is the answer to her remarkably long dedication to sartorial oddity: Now that she's been so strange about her appearance for so long, the strangest thing she can do is to look normal.
Or maybe, today being her birthday, she just finally allowed herself to take a little rest from the usual exhaustion that is dressing herself, and heed our advice about the fabric of our lives from an earlier post.
Update: Die-hard Gaga fans who would perish at the thought of seeing Gaga out looking this normal will be pleased to know that her stylist Nicola Formichetti tweets this is NOT her in the photo, even though a Guess publicist sent around a release saying that it was. But if you saw her out without her costume on, would you look twice? We're awaiting a comment from Guess. The Guess publicist who sent out this release confirms the woman in the photo is a Gaga impersonator. Apparently she was unaware of this until we asked.