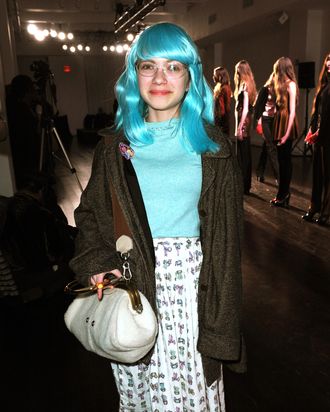 Photo: Craig Barritt/2011 Getty Images
She blogs, just a few days before her blog turns three:

Fashion Week is weird. It is very high schooly. Someone will take that and decide that it means Fashion Week highschooliness is getting me down hard without realizing how highschooly what they're doing is. I love fashion but it's disappointing when you have to sift through a lot of junk before you get to, like, the clothes, and the whole point of it all. It's more disappointing when the clothes aren't very interesting. Lately I've been looking to other places for a creative outlet and for inspiration. I miss following magazines and obsessively checking style.com the way I used to but something is different about it now. A year ago I got to go to Paris to interview John Galliano at Dior, and a couple weeks ago today he said he loved Hitler and got fired.
i feel like the photo to accompany this post should be a lot more intense and introspective-seeming but hey! mirrors are pretty introspective! [style rookie]