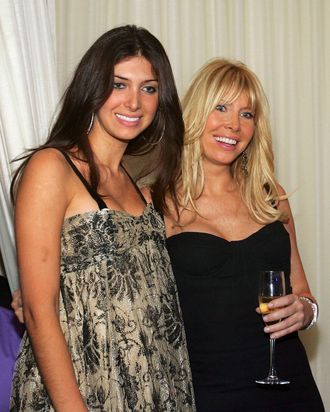 Brittny and Lisa Gastineau.
Photo: Ethan Miller/2005 Getty Images
Why such an ungodly hour? Given that myriad Real Housewives are concurrently hawking enormous synthetic gems on the same network, it's a competitive niche, but the ladies Gastineau aren't deterred. "There really is no comparison," said daughter Brittny. "My mom has been in the jewelry business for twenty years. I grew up as a kid selling jewelry to myself in the mirror. We're actually experts at this."
The Gastineau Girls show aired far before the Kardashian days (it ran for two seasons in 2005 and 2006), and back then Brittny and Lisa weren't able to parlay their TV exposure into retail ventures quite as easily as today's reality stars. "Unfortunately, when we did our Gastineau Girls TV show, it was better for production to make us dilettantes," explains Lisa. "While in actuality, I was running a business called Tres Glam, which was our fine-jewelry line." While Brittny confirmed that there would "definitely, definitely, definitely" be more reality TV in their future, the girls' current focus is the HSN Gastineau Glamour line. The collection ranges in price from $49.99 to a $499 stingray cuff emblazoned with a pink sapphire flamingo "that would probably retail at any boutique for close to $3,000," according to Lisa.