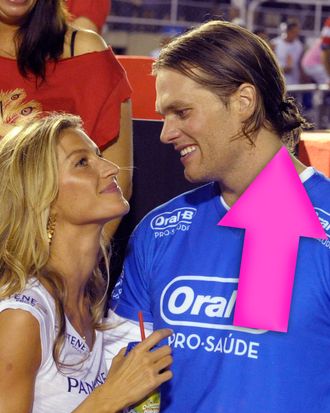 Photo: IG.COM.BR / Splash News/? www.splashnews.com
As they grew and grew, and grew some more, it seemed inevitable that Tom Brady's long flowing locks would be bundled together and contained by a piece of elastic — that style called a ponytail. Somehow it also seemed inevitable that this wouldn't be for football. Would it be for yoga class? Would it be to take the kids for a bike ride? Would it be to take Gisele shopping? No, it would be for something more physically demanding: taking Gisele to Carnival in Brazil. Sports fans are aghast at Brady's updo, searching for the perfect taunt. It's not enough to call him a girl — that insult is so last season. So they're reaching for an equally cliché one. "Brady's wearing a scrunchie!" Deadspin chuckles. "Great scrunchie bro," someone else tweeted, catching the eye of the Daily News. "That's right. Your Patriot's quarterback is wearing a scrunchie," sneers the Boston Herald. Except they would all be wrong because Tom Brady is not wearing a scrunchie. He is wearing a hair elastic or hair band or maybe just a rubber band (which we doubt because Gisele would surely warn him how badly those snag). So pay attention, sports people: this is a scrunchie. As is this. And, oh look, the Patriots even make a pink Patriots scrunchie. The distinction between scrunchie and simple hair elastic must not be lost, because lots of us chicks wear hair elastics so that we're not accused of wearing scrunchies!
Besides, Tom's hair isn't nearly long enough for a scrunchie yet.