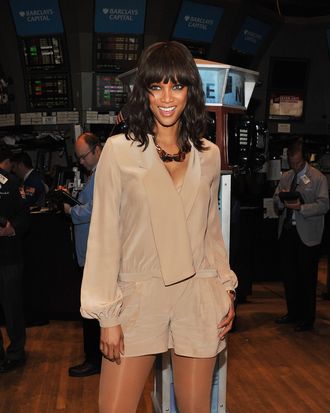 Photo: Slaven Vlasic/Getty Images/2011 Getty Images
For this week's "Encounter" in New York, we spent 62 minutes in the boardroom with Tyra Banks. "Tyra the business­woman is very close to — and I hate third person, but you said it, oh, chiiild, you said it — but me the businessperson and me the person: very similar," she told us. "I can be in a business meeting and be all 'Wooo!' and 'Oh, child!' and still be talking revenues and profits and cash flows. But what's different is that Top Model person who sits behind that desk. I don't know who she is. That is so not me. Sometimes it's me. But when it's like, 'I have two photos in my hands' — who is that? It's a character." We talked to businesswoman Tyra about everything from her new online magazine, TypeF.com, to diversity in fashion, to Lady Gaga's meat dress (she hasn't seen it), to how long America's Next Top Model will run. Below, enjoy more from our interview with Tyra that you won't find in the print issue.
What have you learned attending Harvard Business School that you wouldn't have otherwise known?
Oh my God, it's so much. It really takes you a step ahead. In fact I just met with my accountant the other day, and he was like, "We have to kind of look at your EBITDA." He goes, "Oh, let me just explain to you what that is." And I go, "Earnings before interest taxes depreciation and amortization?" And he goes, "[Gasp!] You're my only client in the entertainment industry who knows what that is." And that's because I'm going to school. So many people place emphasis on this whole tap dancing and performing, but I know I'm not going to do that forever and don't want to.