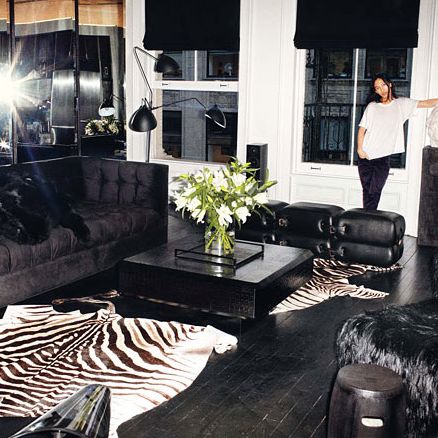 Photo: Maciek Kobielski/W Magazine
If you were a guest in Alexander Wang's home, a 2,200-square-foot Tribeca loft, you could sit on all kinds of things — which is something you can't say about the average New York apartment that probably has only, like, two chairs or a love seat if you're lucky. But not chez Wang, where you might sit on crocodile, goat hair, or fox fur. Former New York Times style editor Holly Brubach sold Wang the space and recently went back to see what he's done with the $2 million investment and write about it for W.

Standing in the place where my pantry used to be, I took in the scene: white walls, black velvet couch, black Karl Springer coffee table, black crocodile dining chairs, black Serge Mouille floor lamps, a pair of chairs covered in black goat fur, zebra rugs, a black fox throw.