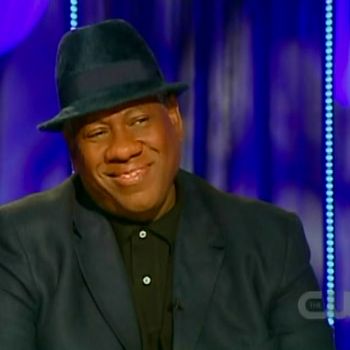 This week's most uncomfortably brilliant moments on Top Model were not the Ford commercials between segments starring Nigel Barker with hair — which says a lot about the drama quotient in last night's episode.
The girls' challenge may as well have been another Ford commercial since they had to pose for Nigel in ads for the car company's Warriors in Pink campaign. Hannah waved a ribbon, Mikaela jabbed a spear around halfheartedly, and Alexandria posed as a tree by literally standing on a mound of soil she'd carried onto the set. Nigel liked this, so Alexandria won big prizes, including a shiny new car.
While the panel deliberated, Brittani storm off again while the girls hashed stuff out with Alexandria backstage. After eliminating Mikaela (who'd been in the bottom two with Brittani and cut from the competition after Tyra got outvoted by her fellow judges), Tyra wasn't going to miss the opportunity to give another dramatic lecture and ended the episode letting Brittani know she's pretty much dead in the water. ALT was sadly overshadowed by all this girly nonsense, but hopefully next week he can go back to stealing the limelight, and Nigel Barker can go back to being bald, which feels more comfortable for everyone watching. Enjoy highlights of ALT and more from last night's episode in the video.