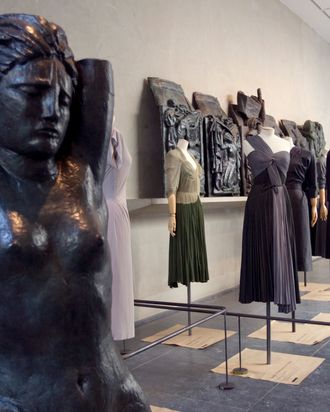 Photo: JACQUES DEMARTHON/2011 AFP
The Metropolitan Museum's annual Costume Institute Gala put on by Vogue and known as the Oscars of the East Coast is not only the best, most fashionable red carpet of the year, but probably also the best fund-raiser the museum has all year. Last year's gala brought in $9 million, and other museums in less fashionable parts of the country that want some of that dough are dipping a toe into fashion exhibits to get some. The de Young museum in San Francisco just opened a Balenciaga exhibit with the glittery star power such events would be expected to attract, including Gwyneth Paltrow, Orlando Bloom, and Anna Wintour. Some guests at the opening paid $100,000 for a ticket — each of which was priced at only $2,500.
But, as museums increasingly embrace these exhibits for what they say are intellectual and financial reasons, some art snobs are taking issue with the infiltration of fashion snobs.