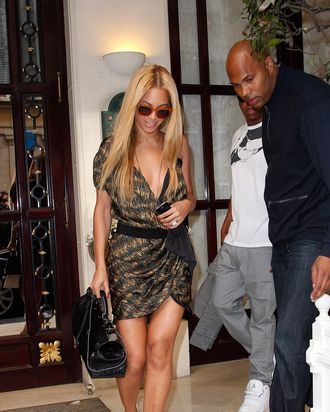 Photo: KCSPresse / Splash News/???? www.splashnews.com
In a short dress with no tights, Beyoncé debuted her spring self in Paris today, where she and her husband, Jay-Z, celebrated their wedding anniversary with a romantic dinner at the restaurant L'Avenue. Beyoncé left her new flag at home and wore a fairly simple olive striped dress with no tights and T-strap sandals.
T-strap shoes tend to be one of the more debatable styles in the world of debatable fashion items — do you like the style on Beyoncé or would you prefer something more like these glitter pumps?