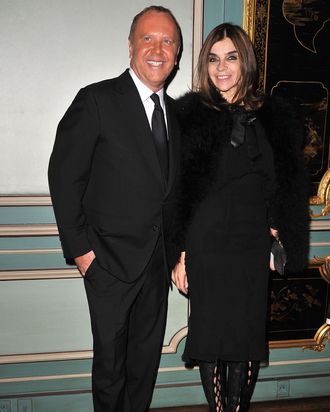 Photo: Pascal Le Segretain/2011 Getty Images
Since she left French Vogue, Carine Roitfeld doesn't have to wear a tight skirt every day, which was her uniform at the magazine. She recently conducted a very interesting interview with Spiegel wearing, she said, "a no-name T-shirt from Los Angeles, corduroy jeans by Current Elliot and satin shoes I had custom-made in violet. So the glamour's limited to my feet." Spiegel tries to get her to say that fashion is a vapid and absurd industry and asks her how she can possibly be normal having worked the majority of her life in it. "My only drug is a small glass of vodka in the evening, if that's what you're asking," she replies. But surely, Spiegel presses, people who spend massive amounts of money on clothing and taking pictures of clothing and trying to look a certain way must make them bad people (never mind the massive amounts of money people spend on tickets to sports games or concerts or New York real estate):

SPIEGEL: Does this world of vanity, in which fortunes are spent on trivial things, corrupt people?

Roitfeld: The fashion industry certainly has its obscene sides. The cost of a coat can be obscene. So can the cost of a photo shoot if you're working with a really good photographer. But when I see how good the photos have turned out or even how well the coat was made or how many people worked on it, it's not quite so obscene anymore. Of course, it's not like we're working in a hospital; we don't save lives every month. We just make decisions about skirt lengths, about an inch more or an inch less. That's all.