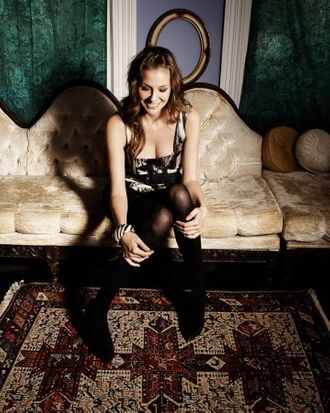 Anna McCraney was the original winner of The Fashion Show in 2009, Bravo's Isaac Mizrahi–helmed reality show, nabbing a prize of $125,000 to launch her own business. Though Bravo's rotating reality-show pantheon achieves notoriety during filming, few contestants have been able to channel their winning streak into lasting professional success. But McCraney claims she never harbored latent fame fantasies. "People take this all sorts of ways, but for me, it really was about the money — being able to invest in my company," she says.
Last week she launched Annabelle, her own 450-square-foot boutique on the Lower East Side (105 Stanton St., at Ludlow St.; 646-370-3269). The racks showcase her spring collection of silk-crepe dresses and skirts in bright colors and ikat prints, alongside warm-weather basics from LA Made, womenswear by Gar-de, Osborne shoes, and jewelry by K/ller. We caught up with the Williamsburg local to discuss her new store, the challenges of selling wholesale, and the aftermath of reality-show fame. Click ahead to see inside Annabelle.
Do you think there's a perception that you're not serious about fashion because you came from a reality show?
I don't take it that seriously. It's fashion; it's supposed to be fun. I'm not looking to be Alexander McQueen, and I'm not looking to be this high-fashion couture designer. I just want to make clothes that are cute and fun and make people look and feel good. It's much more about wearable fashion for me.