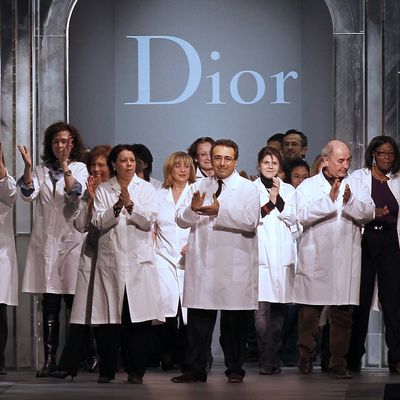 Galliano's replacement, for now.
Photo: FRANCOIS GUILLOT/2011 AFP
It's Riccardo Tisci! Wait, it's Jean Paul Gaultier? Or Olivier Theyskens? Oh my God, when will they announce the replacement so we can rest easy that Dior will still be carried in stores and photographed in magazines?!
Of course, the label is doing just fine. At a shareholders' meeting for Dior yesterday, LVMH chief Bernard Arnault announced that Dior's large design team is functioning smoothly without a creative leader for now, and that they'll name Galliano's successor when they feel like it. As evidenced by the label's fall collection, which walked at its scheduled time without a hitch and received perfectly decent reviews, there's a large and capable group of people behind the Dior label who can steer the ship. Also, Dior's revenues were up a solid 15 percent in the year 2010, so people are obviously still buying the label.