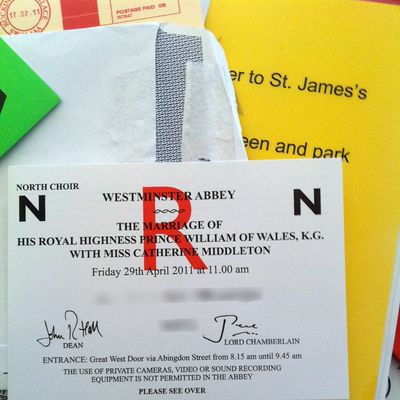 A real live royal wedding ticket!
The streets around Westminster Abbey are officially an unwalkable sea of red, blue, and white. Police have put up barriers around the campers on the sidewalks to create makeshift walkways and are out in full force to keep people moving in one direction (half of them seem to be us Americans — you're welcome, London). Cars and buses are still inching along at the same pace as the pedestrians; while most are filled with frustrated drivers, we did spot one neon yellow vintage Rolls Royce decked out in British flags and a convertible filled with a family all holding flags and waving.
After the wedding and daytime reception their game plan is to dash home to change into their evening gear for the nighttime party at the palace (she's also heading to her hairdresser to undo the effects of seven hours of wearing a hat). It's unclear how they'll deal with the traffic between the afternoon and nighttime receptions. After the ceremony at Westminster Abbey they won't have to worry about it since guests will get shuttled from there to the palace in glamorous buses. But unless guests going to all the day's parties pack their sparkly nighttime things and change at the palace, they'll all have to figure out how to get home, change, and get back in a sea of excited — and by then, probably drunk — royal obsessives.