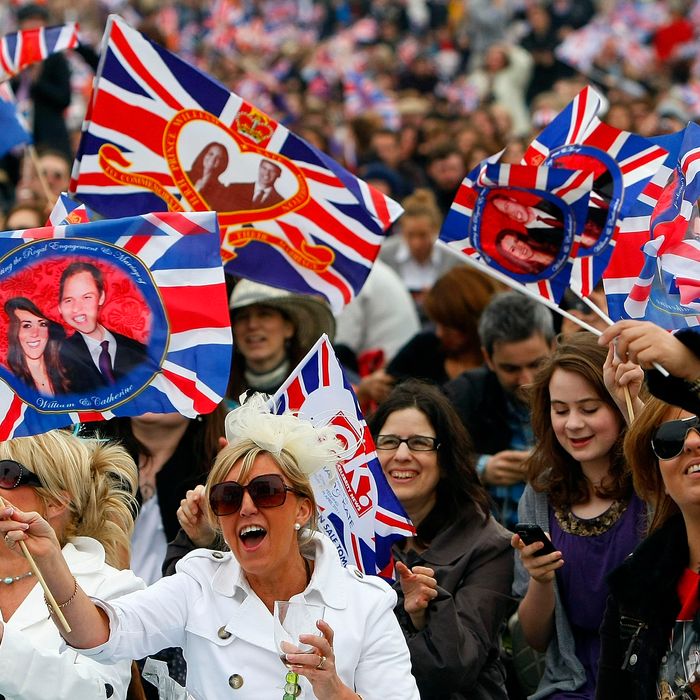 Ra ra wedding.
Photo: Tom Dulat/2011 Getty Images
At seven this morning in London, we walked past boys in Union Jack cowboy hats, little girls in princess gowns, a couple in Charles and Camilla masks, and teenage girls in wedding dresses who had gathered in droves along the Pall Mall to watch the royal wedding procession. We parked ourselves next to a friendly group of Champagne drinkers sitting on folding camp chairs. The little girl with them was wrapped in aluminum, waving a British flag, and the two women with her wore Will and Kate shirts. "Do you smell spicy sausage?" one asked. "We've been here all bloody morning and I'm starving." They had arrived at 6 a.m. to get their spot on the steps overlooking the parade route — and were already drinking. "I reckon there's 5,000 police officers. The burglars are going to have a field day — the cops are all here."
Everyone screamed and waved all over again as the parade went past us on the trip from Westminster to Buckingham Palace for the wedding reception. When the royals and their guests had finished driving past, the barriers were removed and the crowd surged forward like a stampede toward Buckingham Palace to see The Kiss on the balcony. Excuse us — kisses.