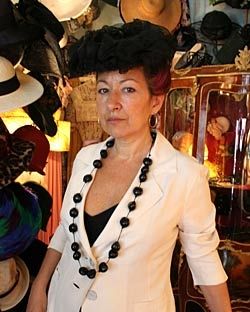 Ellen Christine in one of her own designs.
World-renowned hatmaker Ellen Christine is one of the few American milliners commissioned to make hats for guests at Friday's royal wedding. With 30 years in the business, she has collaborated with designers like Phillip Lim, Nicole Miller, and Jill Stuart; she's also the go-to hat person for the Polo Classic on Governors Island (where guests like Madonna watch Prince Harry play). Christine talked about the hats she's sending to the wedding, as well as what she predicts we'll see people wearing.
What kind of hats are appropriate for an English wedding?
The people will be divided between large brims, like what the queen wears, and fascinators. Everything in England is about what the queen wears; she started the whole Kentucky Derby thing. Then, there will be the young moderns, and they will be wearing their hair straight and with cocktail hats or a fascinator. I think it will be split 50-50.

What will you do on Friday?
I've been invited to two separate parties. I want to get up early. Rosanna Scotto on Fox News will be wearing a hat I made as well, so I want to watch that. But I want to see the wedding with friends.

Are you excited?
I think this event will help turn the heads of two or three generations of people who haven't seen the likes of something this fabulous. Kate has a younger approach, and it will change generations of the hat-wearing public, make hats cool again. Everyone is saying that this will change the hat industry. No more naked heads!