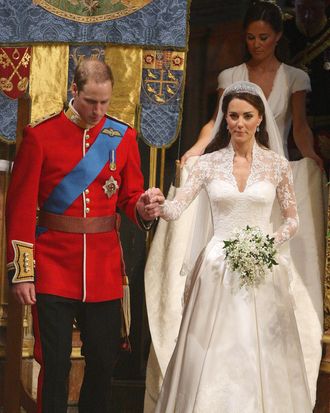 Watching Friday's royal weddingpalooza was akin to hunkering down for the Oscars: The hype machine revved up months in advance, day-of media coverage started way earlier than was necessary (and contained a lot of awkward, repetitive filler), the real heavy-hitters didn't show up until close to Magic Hour, and the ceremony itself mostly afforded a quick nap.
But there's something relaxing about watching a major television event that is virtually guaranteed not to have any unpleasant surprises. A royal wedding is not like a sporting event, where the team for which you cheer (or on which you bet) could lose. It's not like the season finale of your favorite TV show, where your most loved character might fall down an elevator shaft. No, we knew the prince would get the girl — or vice versa — the bride would wear white(ish), no one would stand up to object for fear of being arrested for treason, and everyone would sing "God Save the Queen" (save, of course, the Queen). It made things terribly comforting. The happy couple seemed, indeed, happy; no one fell over, caught on fire, or bungled any lines; and the people cheered so hard it ceased to matter whether they were actually thrilled or just hopped up on three days' worth of booze and body odor.
It was also worth its weight in crazy, because you can always count on a royal shindig for bizarre church-going getups. The bride's gown was a smashing success, but everyone knows that on TV, it's the secondary characters who provide all the fun. Let's take a look at some of the most eye-catching guests.