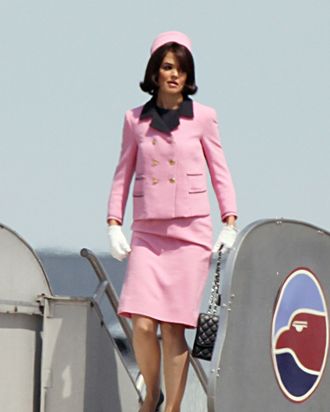 Photo: John K / Todd G / Splash News/? www.splashnews.com
The Kennedys miniseries starring Katie Holmes as Jackie O premieres on Sunday, and if there's one reason it's worth watching it has got to be the costumes. Costume designer Christopher Hargadon spoke to StyleList about the replica of one of Jackie's most famous looks: the pink Chanel suit she wore the day her husband was shot.

StyleList: I was struck by the image of Katie wearing a replica of the pink suit that Jackie wore on the day of President Kennedy's assassination. How important was it for you to get that exactly right?
C.H.: It's funny you mention that suit. It was actually done for Katie by (Giorgio) Armani. She and Tom (Cruise) have a relationship with Armani, and when they found out she was doing the project, they asked to make her clothes. So we told them she would need 45 or 50 looks for all the episodes and they had to be done in about 72 days. They came back and said, "Then, we'd like to do two." So they made that and her inaugural gown. The rest were made in our workshop in Toronto.
Eh, we'd take the Chanel and the other most important look, too.
'The Kennedys' Costume Designer on Turning Katie Holmes Into Jackie Kennedy [StyleList]