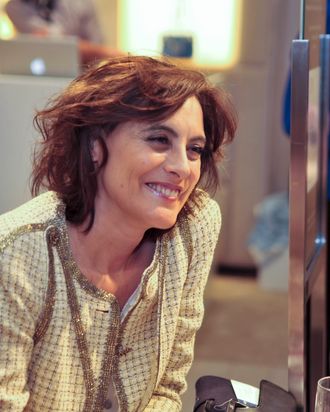 Last night at Saks' Roger Vivier boutique, we caught up with Chanel muse turned fashion guru Inès de la Fressange before she set off to sign copies of her new style advice book, Parisian Chic. The charmingly accented French mother, model, Vivier brand identity consultant and style icon explained how she ended up back on the Chanel runway, offered some tips on maternity dressing, and more.
How did you end up closing Karl Lagerfeld's spring 2011 show?
Listen, it was a stupid idea of pure vanity. The thing the most difficult to get rid of is vanity. When somebody tells you, "You're just gorgeous, you're beautiful, I would like you to do my show," how do you say, "Oh no no, thank you, not for me." You say, "Oh really? Thank you!" And you do it. Even with my old age, no wisdom at all. I was there, and I had flat shoes, because Karl knows I usually wear flat shoes, and I had all these Ukrainian, huge giants around me. I was feeling so much like a granny … And then it was impossible to escape, it was too late. I had to go on the runway, and then two or three friends of mine started to clap, in a very nice way. Maybe they felt bad for me, it was very, very kind of them, but it gave the idea to others to clap. And usually at fashion shows, nobody claps anymore. I mean, you clap at the end but not at the fashion show anymore — you tweet, you phone, you put your eyeglasses on, whatever, but you don't clap, not anymore. But they were clapping and smiling. [So] it was fun to do it like this, just also because it was a symbol that even the big Karl Lagerfeld himself could appreciate a woman that had a bit of a tummy, wrinkles, all the things you get after a while.
Rumors are going around that France's first lady, Carla Bruni, is pregnant. What would you like to see her wear if she is?
Carla Bruni's an artist, and she's supposed to be an image of France, of course. Jeans is always a problem when you're pregnant, but I'm sure she'll put on large men's shirts — like cotton shirts or silk shirts. When you're pregnant, you get a little fatter everywhere else, [like] the neck. When I was pregnant, I do remember, you don't want things around the neck. Sometimes when women are pregnant, I don't know why, they go back to childhood, like wear a big bow and a little dress that looks like a lamp, and they look 6 years old. But usually you have beautiful tits. I remember I was showing off so much when I was pregnant. I had a black dress and I added a Wonderbra to add even more. I remember at dinner I was tan with my huge tits and I felt so great. I had the feeling I didn't need to do conversation.