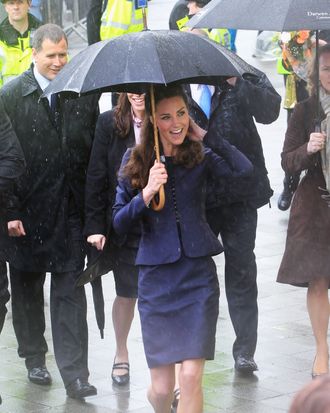 Photo: Danny Martindale/2011 Danny Martindale
In just eighteen days Kate Middleton will become Princess Catherine, which gives you little time to relish the pre-wedding frenzy. Riveting news items with which to do that, below.
• Princess of the people or princess of precipitation? Kate Middleton greeted about 2,000 members of her adoring public at the Darwen Aldridge Community Academy in England today in the rain. She walked a few paces behind Prince William, carrying her own umbrella, looking slim (ZOMG!) in her navy blue suit. Highlighting just how real she is, her hair even got a little frizzy. [Telegraph UK]
• Why, if you've been thinking, Wouldn't it be great if I could see an additional shot of this look in some sort of comprehensive catalogue of all of the clothing Kate Middleton's worn publicly?, that's in the Kate Middleton Look Book.
• Bidding on Kate and William Pez dispensers is at more than $12,000. Proceeds go to charity. [Jezebel]