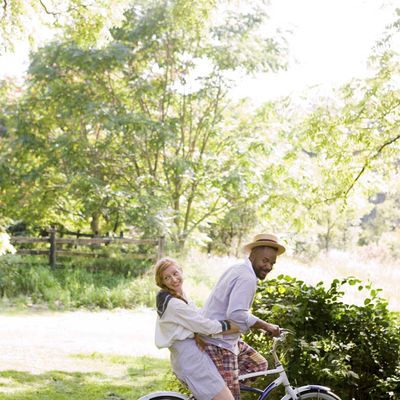 Photo: Melanie Acevedo, Inc
Kenyan Lewis was a visual merchandiser for Earnest Sewn when he met avid vintage collector Grace Kelsey five years ago — the two were a fated match, drawn to each other by a shared love of all things old, weathered, and storied. Today, the couple lives upstate in Accord, New York, their home packed with vintage finds: suitcases, blankets, Popular Mechanics magazines and Montgomery Ward catalogs, radios, speakers, electric fans, clocks — and, of course, clothes: Their collection of early garb from the late 1800s to the early 1900s fills five closets. (Unsurprisingly, their ever-expanding collections were the linchpin in their decision to leave the Lower East Side three years ago.) Each month, the pair traverses the country in their 1953 DeSoto Firedome hunting for props, vintage clothing, and furniture. Their joint business, By Kenyan, provides merchandise from the late 1800s to the forties to retail stores and restaurants embracing the throwback Americana trend.
Though they've worked with retailers and designers like Polo Ralph Lauren, Wool & the Gang, Alice Roi, Save Khaki, House of Waris, and the Gap, they're making their rare finds available to individual enthusiasts for the first time online. This week, the collectors are partnering with Lower East Side boutique Gargyle, releasing a small trove of vintage housewares and décor on the boutique's site. They'll launch their own e-commerce site this summer, featuring a rotating cache of 50-odd items. We caught up with the vintage mavens to discuss their favorite vintage sources and "lived-in" style.
What's something you never leave the house without?
K: My Brooks Brothers vintage fedora.
G: Ray-Ban sunglasses.