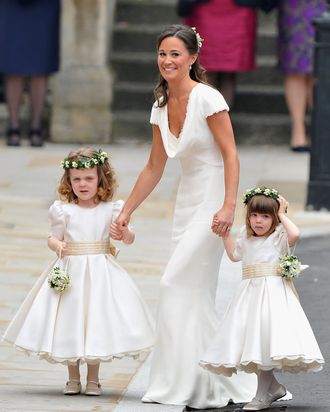 Photo: Pascal Le Segretain/2011 Getty Images
Some royal-wedding enthusiasts seem to think Her Royal Highness Kate's sister, Pippa, her maid of honor today, looked better than she did. Like Kate, she looked slim and tan and wore an ivory gown by Alexander McQueen's Sarah Burton. The royal wedding website gives the details on Pippa's dress:

It is of a heavy, ivory satin-based crepe, with a cowl front and with the same button detail and lace trims as the Bride's dress.
So it may as well have been made with leftovers from Kate's dress. Pippa had the added bonus of escorting around the adorable little flower girls, who looked just fabulous in dresses by Nicki Macfarlane, designed to mimic Kate's dress. So it was hard not to look at Pippa as she trailed her sister with the cute children,and carried her lovely embroidered train. But did she overshadow her? What did you think of her look? Discuss!