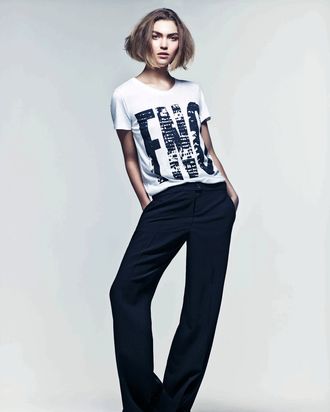 What if the F was preceded by EF? Or what if … there was no F?
With Vogue staff spilling onto Twitter and Vogue itself spilling onto the Internet, the magazine is fast enveloping the web in its sometimes warm, always expensively clad embrace. And so Fashion's Night Out, Anna Wintour's two years young answer to the fashion industry's recessionary strife, is allowing online stores to participate. While hundreds will open their doors to free booze-seekers, and celebrity lollygags stalking the streets on Thursday, September 8, in New York, online retailers can "join in the fun by creating virtual events … that will engage shoppers and give fashionistas without FNO in their area a way to celebrate," a press release states. So finally, people in Des Moines can sit at home with their computers and congratulate themselves on giving back to fashion.


And of course FNO would be incomplete without a charity-benefitting T-shirt! You see this year's on new Wintour favorite Arizona Muse — definitely the loudest in FNO T-shirt history (40 percent of proceeds go to the New York City AIDS Fund). This year, you can even make a whole FNO outfit with all-new FNO baseball caps, FNO tote bags, and short- or long-sleeved FNO tees in a "multi-colored fashion print." Somewhere over the rainbow, out there in the middle of fashion nowhere, people are excited to sit at home with their Internet in their FNO ensemble on September 8.