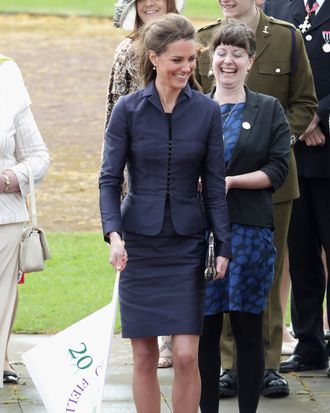 Kate in her Amanda Wakeley outfit yesterday.
Photo: Chris Jackson/2011 Getty Images
St. Andrews University, where Prince William and Kate Middleton met and went to school, was home to a raunchy elite sex club founded in 1732, to which an ancestor of William's belonged. The St. Andrews museum possesses "rare historical artifacts" used by the club, which can be viewed by approved scholars. They include:
…drinking glasses in the shape of giant phalluses. Lewd platters are engraved with surreal pornographic images, including erections shaped as lighthouses and roosters with human penis heads. One prize exhibit is a snuff box filled with female pubic hair that was plucked by one of William's most debauched and lecherous royal relatives, King George IV, the prince's fourth great-granduncle, who ruled from 1820 to 1830.
• Blogger Meredith Fineman feels bad for Prince William's exes who will reportedly attend the wedding. Her argument: "I mostly just feel bad for this quartet because they could've been a PRINCESS. So they're all going to be sitting together, fanning themselves, recounting the days when they thought they'd become a royal. That majorly sucks." No it doesn't — they get to go. Getting up at 4:45 in the morning to watch it on BBC America "sucks." Also, who really wants to trade places with Kate Middleton? [HuffPo]