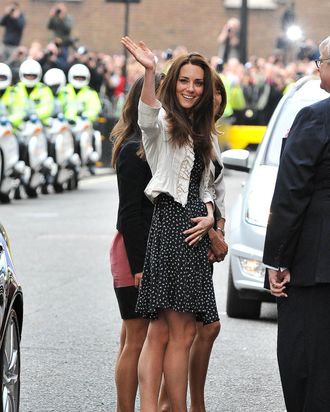 Photo: George Pimentel/2011 George Pimentel
Tomorrow, Kate Middleton and Prince William will finally get married in London. From the looks of today's blogs, in a week's time when people (hopefully) start to forget about this and move on to other trivial obsessions, plenty of outlets will have to find other sources of "news." For no one seems to be tired of the wedding-dress speculation, even though no one is going to have a damn clue about what that garment actually looks like, really, until she wears it tomorrow. But anyway, a bunch of stuff you don't need to know about the wedding is here. Is it still fun?
• Kate Middleton arrived at the hotel she's staying at in London! Looking like your average girl in the mall. Aw? See more photos of Kate wearing clothes in the Kate Middleton Look Book.
• Bruce Oldfield has confirmed that he is not designing Kate Middleton's wedding dress. But most experts on this sort of thing have been saying this all along since he's been so shamelessly connecting himself to the story in the press. [-Vogue UK]
• WWD believes Vera Wang is involved in the wedding, though she's definitely not dressing Kate Middleton. [WWD]