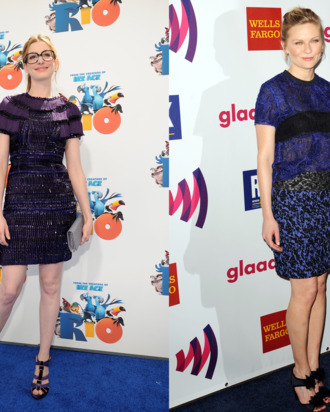 Stepping out at events over the weekend, both Anne Hathaway and Kirsten Dunst plumped for purple outfits. At the premiere of new animated film Rio, Anne wore a look from Gucci's 2011 spring collection – a cap-sleeved minidress embellished with beading and tassels — as well as heels to match. (She added a pair of geek-chic glasses.)
Over at this year's GLAAD Awards, Kirsten Dunst also picked a spring 2011 look: a textured lace tee and printed skirt from Proenza Schouler's collection. She paired the look with strappy heels and three gold bangles.
There's a lot going on in each of these looks, but which is more successful?