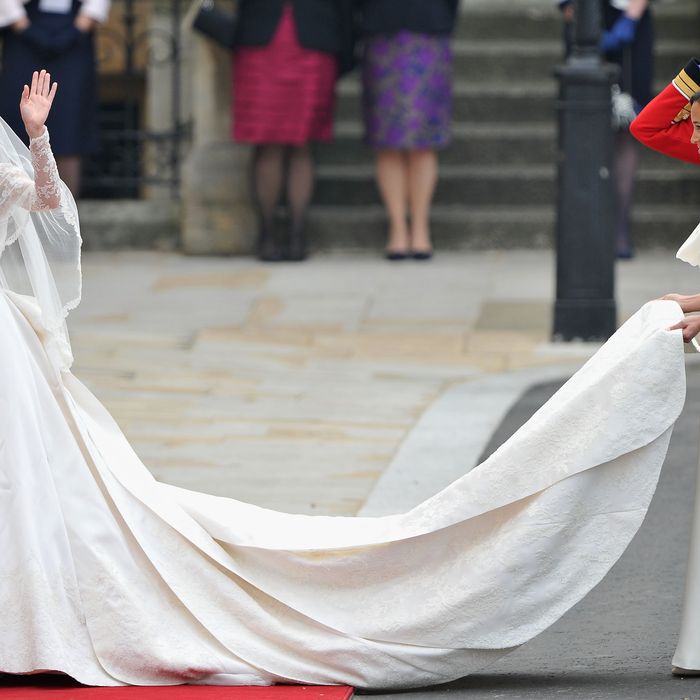 Kate in an Alexander McQueen dress by Sarah Burton, with her sister, Pippa, holding her train.
Photo: Pascal Le Segretain
Today feels a little bit like when the Sex and the City movie premiered: We were totally sick of it by the time it happened, but then everyone went and saw it and liked it anyway! Pretty dresses! Bad hats! Celebrities! (See pictures here. And see pictures of Kate wearing her dress here.) Anyway, isn't it good to know on this morning of April 29, 2011, that one women, Catherine Middleton, can be so famous just for getting married? Work never seemed to suit her anyway. So off with the live blog! We'll get through this together.
4:47 a.m. Guests are arriving at Westminster Abbey, and already there is a deluge of bad pastel menswear. (Elton John gets a pass for his pastel yellow vest because he's the man, however.)
Related: The Royal Wedding Slideshow
Everything About Kate Middleton's McQueen Wedding Dress That You Ever Wanted to Know
The Kate Middleton Look Book
The Best Gossip About Kate Middleton and Prince William From the Abundant Royal-Wedding Books