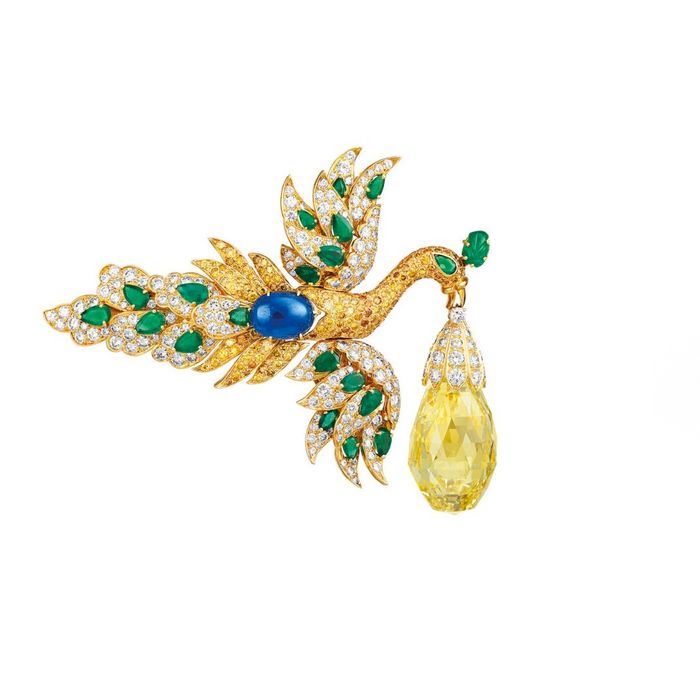 The Walska brooch/pendant, currently on display at the Cooper-Hewitt.
The Times' Karen Rosenberg was thoroughly unimpressed by the 350 glittering chunks of diamonds comprising "Set in Style: The Jewelry of Van Cleef & Arpels," at the Cooper-Hewitt Museum in New York, and not because she found such ostentation vulgar. "Extravagance isn't the nauseous part; staggering displays of wealth don't look out of place in this former Carnegie mansion," she writes. The problem, rather, is that Van Cleef didn't bother to hide that it's basically a promotional show — a huge, glittering advertisement that, because it's in a Smithsonian museum, has the pretext of being something more enlightening.
"Allowing a luxury brand that's still very much in existence to bankroll its own exhibition — one that often looks as if it were put together by the company's creative directors — does not seem like a smart move, even if it draws A-listers to the opening-night gala," writes Rosenberg. Sure, plenty of museums cater to their flashy corporate sponsors (the Metropolitan Costume Institute, for one), but they usually attempt to preserve their scholarly objectiveness when it comes to things like museum notes, which is not the case here, she says.