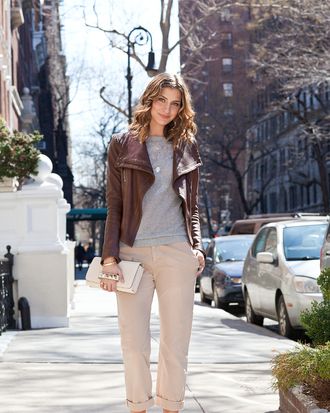 Sylvana Soto-Ward.
Photo: Marko MacPherson
Kate Middleton's wedding dress, designed by Alexander McQueen's Sarah Burton, was a fantastic lead-in to that other huge event happening on Monday in New York: the annual Costume Institute Gala, put on by Vogue. Up at 6 a.m. to watch the royal wedding was Vogue's special-events planner Sylvana Soto-Ward, who is planning this year's gala at the Met for the second time. The exhibit the event will open is devoted to the work of Alexander McQueen, and Monday night's gala is meant to celebrate his life and work. This means the red carpet should be one of the most over-the-top ever, with the many famous guests wearing lots of new and archive McQueen pieces. While you can get a preview of the party décor and more in Vogue's brand new Met Ball iPad app on Monday, we rang up Sylvana to get more details on everything from the McQueen dresses to the live performance to the dinner menu.
The royal wedding was a great way to get excited about the McQueen exhibit again. What did you think of it?
It was certainly fortuitous — we were thrilled [that she wore McQueen] obviously. I thought she looked beautiful. And I was up anyway sort of dealing with things so it was a nice distraction for a second.
How does planning the party this year compare to doing it for the first time last year? What are you glad you know this time around?
Simple things, like which gallery in the Met has cell service. Like if you really need to reach someone and you have no bars because you're in the Egyptian wing, but if you move five feet to the right you have two bars — which you learn after spending hours and hours living in the Met, which I have.
And what are you wearing?
I'm wearing McQueen. It is an archive piece from one of Alexander's collections, and it's really beautiful, and it happens to be extremely comfortable so I can run around in it, which is extremely exciting. At the moment I'm staring at a pair of nude Charlotte Olympia pumps that are about six inches high and have a massive platform and look amazing with the dress, but I'm afraid of them. So I might change those.