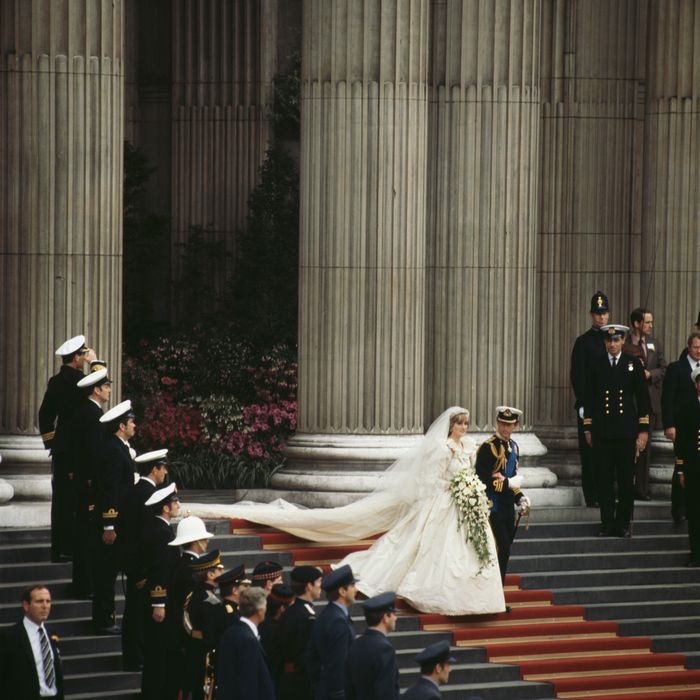 Diana's wedding. Remember! Get excited!
Photo: Princess Diana Archive/2007 Getty Images
In less than five days will the iconic images of Diana marrying Prince Charles find a worthy replacement in Kate Middleton marrying Prince William? If Kate ignores her usual stylistic instincts and does something dramatic instead of plain, boring, reasonably priced, and safe, hopefully! Today's royal wedding news to sate you until we know is below.
• Always keeping things in perspective, Hadley Freeman on what she'll wear to watch the royal wedding: "Pyjamas, bed socks and a pair of toothpicks, holding up each of my eyelids. As you might have discerned, this is an outfit with a toothpick-prodded eye more on practicalities than aesthetics, and the practicality here is that certain editors are making certain writers watch the wedding even though these writers live in a different time zone and therefore will need to be awake and pretending to care about things like 'succession' and 'balding princes' at 4am. Not that I've ever been one to complain… Of course the royal family is a totally offensive concept and these royals in particular are especially uninspiring, but just treat it as a national holiday with a particularly nationalistic bent." [Guardian UK]
Related: The Kate Middleton Look Book