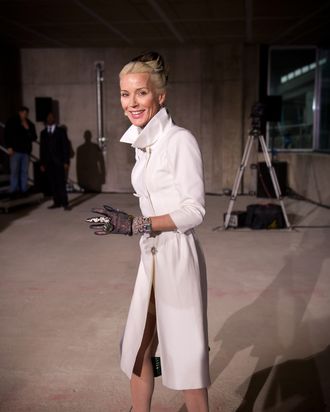 Photo: Ian Gavan/2011 Getty Images
The all-new Barneys, with its all-new CEO and (forthcoming) all-new styling by Carine Roitfeld has an all-new window concept: putting Daphne Guinness behind glass so that the public can watch her get ready for the Met Ball. If ever there was a window worth seeing, this is it. If you've never gone out of your way for the Styrofoam sugar plum fairies, you've missed nothing because now you can see one in real life! When it's not ass-cold outside!
In addition to dressing in the windows for the Met Gala on May 2, Barneys' Madison Avenue windows will display a selection of pieces from Daphne's immaculate clothing collection, including items Daphne acquired when she bought Isabella Blow's entire wardrobe. Maybe after you look at all that you'll go into Barneys and buy something. Or maybe when you're done gawking, you'll go into Barneys and gawk some more while you feel not rich.
BREAKING NEWS: BARNEYS NEW YORK AND DAPHNE GUINNESS TEAM UP FOR PERFORMANCE ART PIECE [Window/Barneys.com]