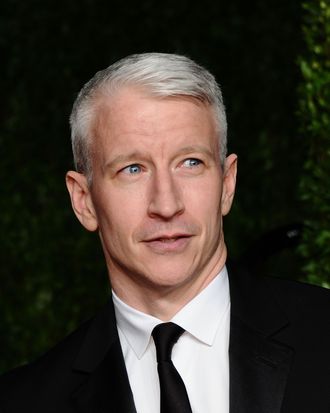 Looks like he's got his, "Oh, there's Lady Gaga" face down.
Photo: Michael Buckner/2011 WireImage
He's covered the world's worst natural disasters, wars, and famine. He's been in the world's seediest, buggiest, and most vile places. He's reported on events as hugely significant as the royal wedding with the utmost calm and togetherness while Piers Morgan, more often than was comfortable to watch, tried to make him look like a doof . And Anderson Cooper will now bring this fortitude, this will, this strength of mind and body to one of fashion's most ultimate, important nights: the CFDA Awards. On June 6 Cooper will host the ceremony, where potentially daunting situations may include looking less pretty than Gwyneth Paltrow (assuming she attends — she did last year), looking less toned than Marc Jacobs (he is receiving the Geoffrey Beene Lifetime Achievement Award, mazel tov!), and dealing with Lady Gaga, whose attendance to receive her honorary Fashion Icon Award has been confirmed. If anyone can pull an Oprah and talk her out of the changing room if she needs to commune with God on the entire American fashion industry's watch, it's Anderson. Those are fashion's trenches.