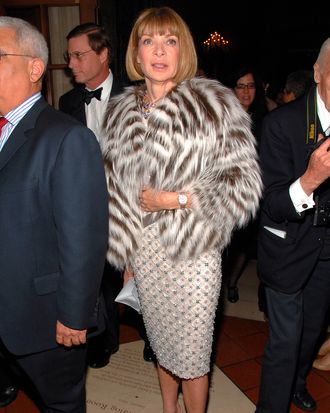 Photo: OWEN HOFFMANN/?patrickmcmullan
For an editor who runs the world's most important fashion magazine, about clothes that readers might expect to be described, Anna Wintour has an interesting attitude toward prose, according to the aptly named, adjective-loving writer Martin Filler.

Nearly twenty-five years ago I was called into the office of Anna Wintour, my boss during her brief interregnum at House & Garden magazine before she ascended to fashion glory as editor-in-excelsis of Vogue. "You use too many adjectives," she told me. "I don't like adjectives. That's all."
Is that, like, in the way one might dislike a particular apparel item? Like white heels or toe rings?
God Save McQueen [NYR Blog]