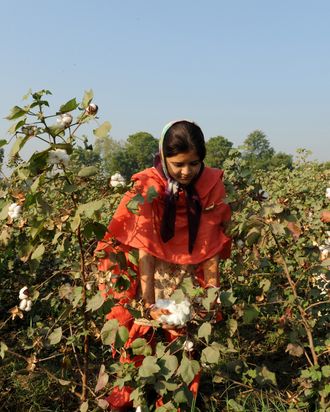 Photo: SAM PANTHAKY/2009 AFP
Cotton shortages combined with increasing demand from China have caused prices to shoot up to the equivalent of what the material cost, per pound, during the Civil War, and it's probably going to stay that way for a while. Mark Messura, senior vice president of global marketing supply chain at Cotton, Inc. (that very same Cotton, Inc. that just hired Kate Bosworth to sing in ads), described the situation as "unprecedented" and blames it mostly on China, which used to produce much of the world's cotton and would now rather grow corn:

World production [of cotton] has dropped dramatically, by 40 percent, because farmers are planting more corn and soy crops…China will not produce enough cotton because food is far more important. They need over 30 million crops [cotton bales] a year. When China shops the world for cotton, the market shoots up.