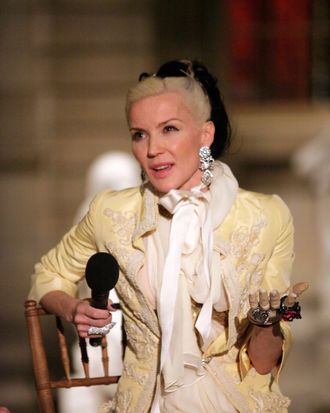 Daphne Guinness calls buying all of late fashion editor Isabella Blow's wardrobe to halt its auction "probably the maddest decision ever." Speaking late last week to Platinum and Centurion American Express cardholders at an exclusive tour of the Met's new "Savage Beauty" exhibit — showcasing the work of her and Blow's friend Alexander McQueen — she explained
I thought what's going to happen is [the pieces are] going to be lost. She had an incredible eye and she truly loved her pieces, they're like a diary. I didn't want to buy them and wear them, I wanted to buy them and keep them because I think it's very interesting for students and people who are interested in fashion to see.
Guinness, who said looking at the clothes was difficult since they reminded her of Blow, loaned some of Blow's collection to the Met for the exhibit, and to Barnyes and Harvey Nichols to display, while the rest remains in a storage facility. Guinness wants to display the whole lot of it, but isn't sure how. "I'm trying to think of a way to do it, and I'm thinking maybe it'll be a virtual museum, maybe then it could go on tour," she said.
Related: Video: Tour the Met's New Alexander McQueen Exhibit