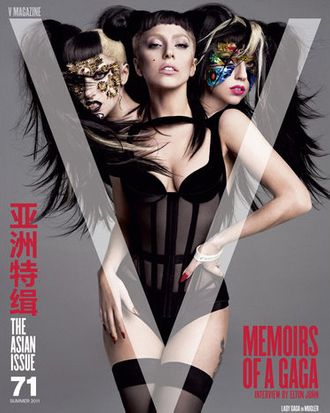 "Memoirs of a Gaga" — get it? The Asia issue?
Photo: This photograph is protected by United States copyright law and may not be reproduced, distributed, transmitted, displayed, published or broadcast without the prior written permission of the copyright owner. Licensing requests should be sent to photosales@nytimes.com.
Lady Gaga's first column for V, which we read in full this morning, is a 1,445-word lecture, in which she compares herself to Yves Saint Laurent, a librarian, and Andy Warhol — but not Madonna. The article, formatted as a "Memorandum" addressed to V editor Stephen Gan, with "Fashion-Sexuals" cc'd along with "The World," reads like a nonsensical defense of all the criticisms leveled against Gaga in her brief career. "Art gives birth to new art," she asserts.
There is no chicken or egg. It's molecular. Cells give birth to cells. To put it more bluntly, the Hussein Chalayan vessel I wore at the Grammys wasn't inspired by a chicken. It was stolen from an egg. But the transformation, the context, and the approach taken to reinterpret the meaning of birth and rebirth in terms of fame on a fucking red carpet — this is what creates the modernity of the statement. The past undergoes mitosis, becoming the originality of the future.
You can read Gaga's full article here. Godspeed.