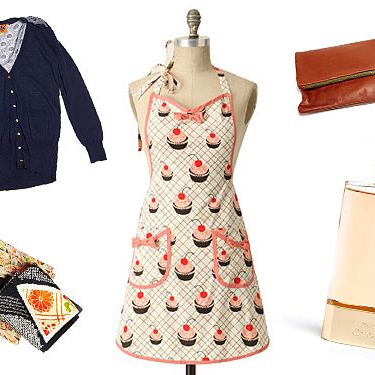 Clockwise from left: Jacy Cardigan by Tory Burch, Baker's Delight Apron, Foldover Clutch by Clare Vivier, Love, Chloé, and Antique Kimono Silk Scarves.
The lack of warm temperatures and sunshine make it hard to believe it's even May, much less that it's Mother's Day on Sunday. Should you have the same excuse for not getting a present yet, it's not too late. Our newest Shop-A-Matic has 125 ideas for how to say thanks to the one person who will always be there to lend an ear, no matter how late the phone call. There are the usual foolproof gifts like luscious floral arrangements and tasty treats, along with pretty home finds and budget-friendly suggestions. Don't worry, no one will know you almost forgot.
Antique Kimono Silk Scarves
Price: $58
Why We Like It: Made from vintage kimono fabric, the delicate silk scarves look best when simply knotted around the neck or on the strap of a purse.