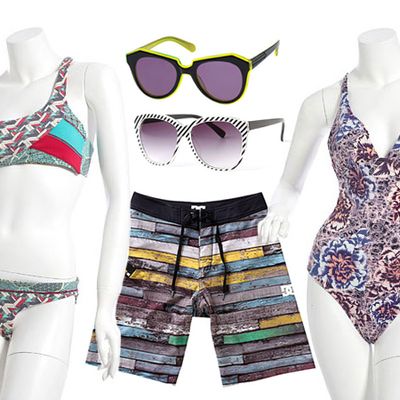 Clockwise from left: One-Shoulder Bandeau Bikini by Maaji, Number One by Karen Walker, Test Pattern Shades, Belle Fille Low Back One-Piece by Seventh Wonderland, and Woodshed Board Shorts by D.C.
After months of never-ending snow — followed by the past few weeks of torrential rain — it's been hard to fully embrace a rather tepid spring, despite how warm it is outside. But the inevitable influx of fancy-schamncy invites and press releases about the Hamptons remind us that, finally, Memorial Day weekend is upon us! Our latest Shop-a-Matic has all the shades and swimsuits you'll need for a hot and hazy summer filled with coconut-scented sunscreen and sandy toes. Skimpy bikinis are perennially popular, but designers are also delving into sexy one-piece suits as well. And while some call for shorter swim trunks, we found 42 styles ranging from the newer and more revealing suits to the more traditional knee-grazers.
Woodshed Board Shorts by D.C.
Price: $59
Why We Like It: For the thigh-flashing-averse man, these trompe l'oeil board shorts have a safe, laid-back, surfer vibe.