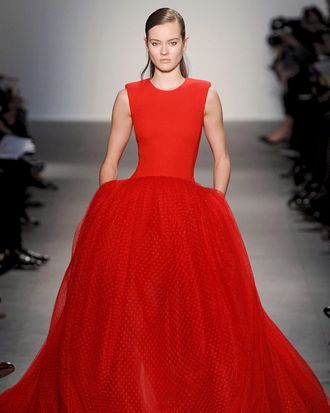 Giambattista Valli, fall 2011
Giambattista Valli's immaculately crafted ready-to-wear shows regularly earn comparisons to couture. This evidently has not been overlooked by the Chambre Syndicale, the French organization that oversees the highest of high fashion and deems what and who is and isn't couture, like Project Runway times 100 billion. The Chambre has given Valli a slot on the couture schedule for the upcoming round of shows in July. This is pretty unusual, as it's not often that someone on the Outside is invited to be a part of this élite planet. The Independent explains:



The rules of the Chambre Syndicale dictate that Valli — who is famous for his sophisticated ball gowns sure to appear on this year's red carpets at the Cannes film festival — be elected at least five times in order to gain permanent membership.
So if this show goes well — and really, when has he done a piece of tulle wrong? — he'll be one-fifth of the way toward establishing himself in the same league as Armani, Givenchy, Chanel, and Valentino.
Giambattista Valli to show couture in Paris [Independent UK]