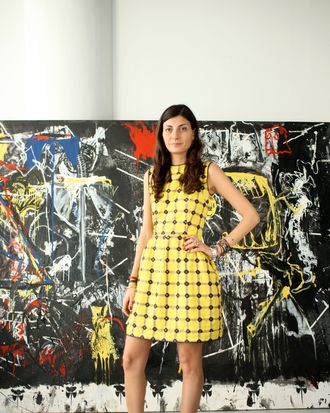 Giovanna
Photo: Melissa Hom
Stylist Giovanna Battaglia has loved fashion since she was in the womb. As a kid she would design clothes for her Barbies and put on fashion shows. Eventually, she moved onto human models, casting her sister and brother for more pretend fashion shows. Now Battaglia is one of the hottest stylists working in the industry, with credits that include Italian Vogue, Gianfranco Ferré, and Dolce & Gabbana to name a few. When she moved to New York from Milan almost two months ago she started styling for W magazine, run by her longtime friend Stefano Tonchi. The former model who got her first job as a fashion editor in 2001 now lives on the Upper East Side, freelances for W, and tries to resist making too many trips to Barneys. We recently rang up the glamorous Italian to chat about being a street style blog star, how she deals with New York closet space, and fashion's need for "some good glam."
You have a vast clothing collection — did you move all of it to New York?
No, I kept the Milan house. It's too much. I always go back to Milan every month, month and a half. My sister is taking care of my house, so she will try my clothes on and send me pictures sometimes.
Does that make you nervous? Are you protective of your clothes?
Yes, some shoes are really untouchable — or maybe there's some delicate chiffon dress or something. There are gold Louboutin shoes that are like amazing; there are white Manolos from the cover of his book — a white pair with black piping. I made the mistake once of wearing them to a party and ruined them.
Where do you like to shop in New York?
Barneys is just around the corner, unfortunately — once I needed a pair of tights and it's the closet thing to my house, so I go in and buy two pairs of shoes and I forget to buy the tights! I like the vintage stores, too, but the one store that has a lot of things that I really like is Opening Ceremony. I just bought an amazing dress, a collaboration between Opening Ceremony and Deyrolle, which is a store in Paris that I love. It's long, kind of Sixties-ish with a very round neck, long sleeves, straight down to the feet in jersey, and it's got a fox print. I was so excited. You can just be comfortable but kind of eccentric, no?